BALI – Canggu's #1 Japanese eatery, Ji Restaurant Bali is now serving delivery and takeouts highlighting its famous sushi selection to satisfy the demands of its patron. Adhering to WHO's highest standard of hygiene and strict sanitizing protocols, culinary afficionados are now able to enjoy scrumptious dishes while staying safe and healthy at home. Committed in navigating the situation together as a part of community, Ji Restaurant extended a small token of gift by discounting 20%of total bill and FREE delivery to Berawa, Pererenan, Canggu, and Kaba Kaba.
The menu at Ji was created by a team of Japanese Asian-trained chefs led by Chef Colin Buchan (former chef of Gordon Ramsay restaurants in London and personal chef to David and Victoria Beckham) emphasizing dishes that are contemporary & playful but at the same time homey and comforting, based on classical Japanese methods of preparation that are simple, extremely fresh, precise and meticulous, but with a touch of exciting twist of flavours as well as slight fusion of ingredients influenced by other Asian countries.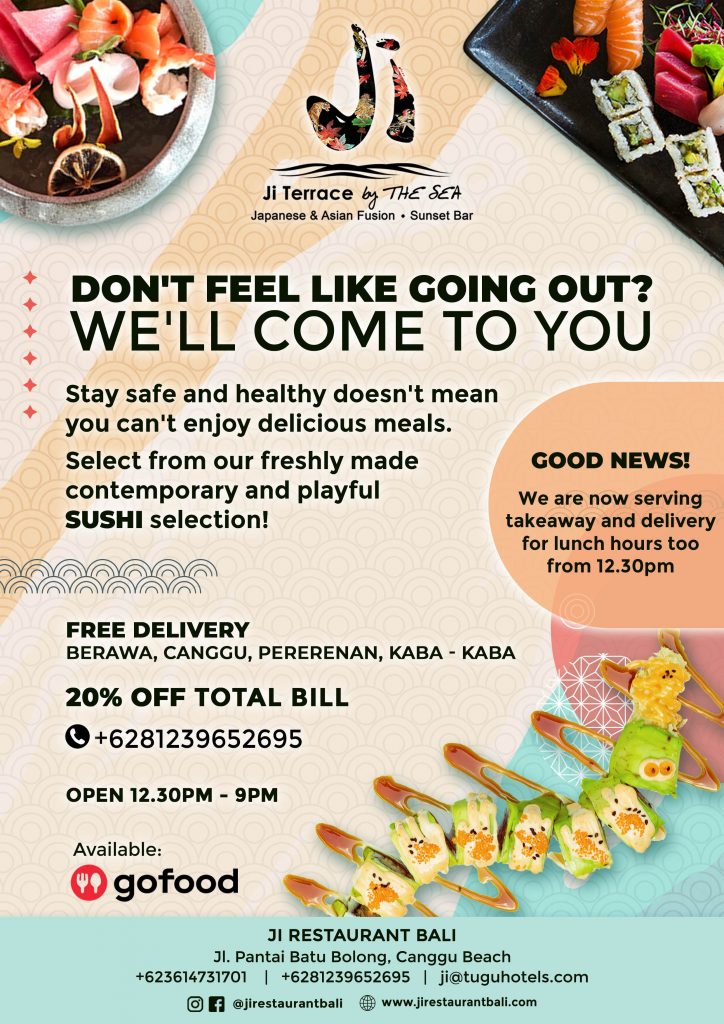 From sushi to maki roll, or from nigiri to tempura, Ji's sushi lists are a sushi lovers dream. Among of them, Tic Tac Toe Sushi Platter is perhaps everyone's favorite, which includes nine pieces of nigiri based on the catch of the day. While from the Special Maki Rolls, try our Dragon of Ji a medley of prawn tempura, avocado and tobiko spicy mayo; a classic combination of flavors that most people would enjoy.
From 12:30pm-9pm, you can order to your heart's content, – order a bit of everything, then maybe add on a few more sushi of what you liked the most. For delivery and menu inquiry, messages or calls can be directed to +62-812-3965-2695 or head straight to GoFood.
About Ji Restaurant & Rooftop Terrace
Ji Restaurant Bali is the ultimate spot located in the heart of Canggu, Bali, where ancient 300 years old temple meets the red horizon over the Indian Ocean. Ji Restaurant Bali offer simply the best contemporary Japanese dining experience in a magical, sensual ambience of ancient Japan and the East, with playful Japanese Asian inspired dishes and a 180 degree undisturbed view over the magical sea.
Ji Restaurants Bali are divided into 2 different venues;
• Ji at Bale Sutra 1706, the only restaurant in the world housed in an ancient Kang XI period temple from 1706 that had been saved from demolition, relocated & reconstructed in Bali.
• Ji Terrace By THE SEA on the vast open-aired upper floors with 180 degrees undisturbed views over the sparkling Indian Ocean and Canggu Beach. With a majestic rooftop for red sunsets and dining under the stars, the place celebrates Bali beach life to the fullest.
For further information, contact:
Rai / Email: pr@tuguhotels.com / Phone: +62-816-1420-793
Ji Restaurant & Rooftop Terrace
Ph: +62-361-4731701 / M: ji@tuguhotels.com
www.jirestaurantbali.com