JAKARTA – In the midst of the current pandemic that is taking over the world, ARTOTEL is still present while offering the best services to its loyal customers. ARTOTEL offers "Stay Longer, Even Better" and Food Delivery promotions to guests in need of an accommodation and the ease of dining at home.
With following the government regulations of social-distancing, working from home, and large scale of social restriction, ARTOTEL still opens its doors to guests in need of accommodations. Various stay promotions offered by ARTOTEL include, one-night stay and long-stay (weekly and monthly), as well as pre-sale voucher with an expiration date of 28 February 2021. The specialty of these stay promotions is that guests are given 50% until 65% price cuts and additional facilities that they could enjoy on their stay.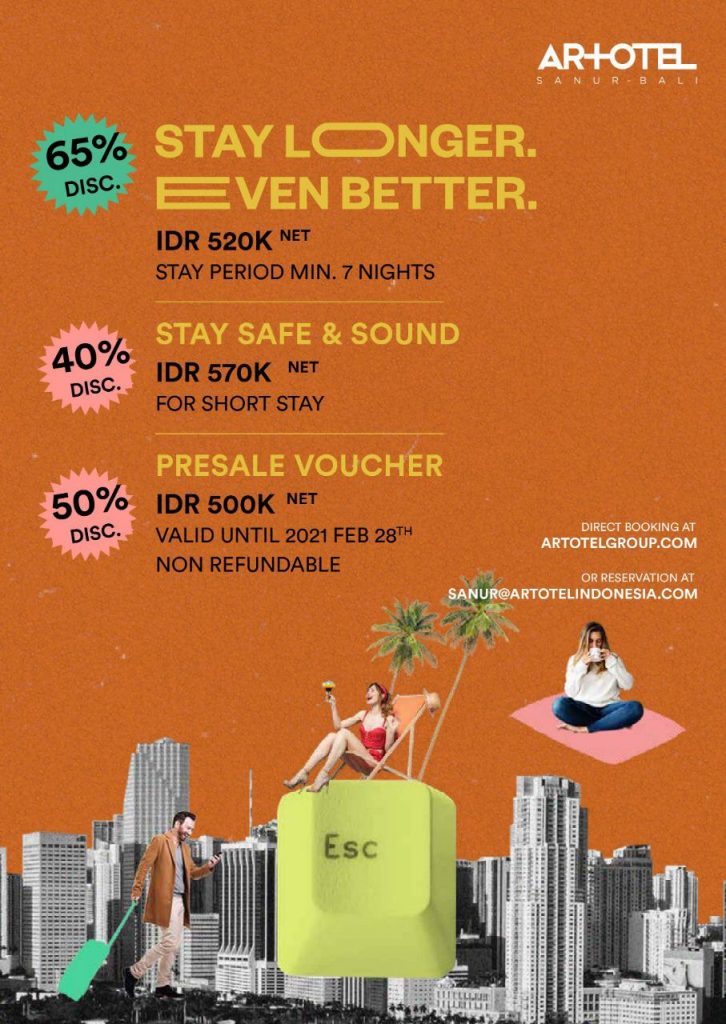 "Stay Longer, Even Better" is a stay promotion valid from one week to one month long stay that comes with a 65% price cut and additional facilities offered by the hotel. In ARTOTEL Sanur – Bali, "Stay Longer, Even Better" is offered with the price of IDR 520.000 nett / room / night for a seven-night stay package, IDR 500.000 nett / room / night for a 14-night stay package, and IDR 332.500 nett / room / night for a 30-night stay. Facilities offered by ARTOTEL Sanur – Bali include:
Free 3 pieces laundry / day
25% discount on F&B
Housekeeping service 2 times / week
Cleanliness is certainly the first priority service that is offered by ARTOTEL, where disinfection activity is done twice a day by routine, body temperature check ready, and having health workers on-call in case needed.
In Food & Beverage section, "Rasa To Your Casa" is a delivery service campaign provided by ARTOTEL. Rasa is derived from artotel RASA, a department specialized in food and beverage, and Casa means HOUSE, from a foreign language. This campaign is promoting that ARTOTEL's F&B outlets are ready to bring ARTOTEL's signature dishes to your door step.
Lidah Lokal that is located in the Lobby area of AROTEL Sanur – Bali provides several menus that are ready to be delivered right to your door step, and the promos include:
Set 1 (2-4 pax) at IDR 100K nett for a set menu including 1 ta'jil and 2 portions of food menu
Set 2 (4-6 pax) at IDR 200K nett for a set menu including 4 ta'jil and 3 portions of food menu
Take away bento box at IDR 45K nett
"Rasa To Your Casa" promotion from Lidah Lokal is free of delivery charge within 5KM radius, whereas if location is more than 5KM radius, customers could order menu from online application such as GoFood and Grab Food. The making process of our food is guaranteed to be hygienic while also using high quality products, appropriate to ARTOTEL's standard.
Yulia Maria, the Director of Marketing and Communication of ARTOTEL Group said, "In this hard time, we from ARTOTEL Group are still committed to give the best hospitality service with providing accommodation and food & beverage facilities which are adjusted to the needs of the society, while also respecting the government regulations regarding social distancing. Therefore, we hope that the society will still be able to do their activities in a calm state if they still desire to stay at our hotels, or to enjoy the food and beverage a la ARTOTEL at home without having to worry to go out." (*go)