KUTA – Bali has indeed declared itself to enter the 'new era of Bali' on July 31, 2020 at Peninsula, Nusa Dua then. However that does not necessarily mean that Bali's tourism has risen. A number of tourism workers are still trying to survive in the midst of this difficult situation. A helping hand from fellow partners and partner companies is important in this pandemic.
It is the Bali Hospitality Movement (BHM), which continues to move on to record data, look for donors and then distribute aid to its partners who are in dire need. This time BHM is collaborating with Campari Group, a premium beverage company from Italy who finally wants to care for workers in the tourism sector affected by the covid pandemic. Taking the theme of #Shakenotbroken, BHM in collaboration with Campari organized an event that took place specifically targeting tourism actors working in the bar section at the Golden Tulip Jineng Resort – Bali, Thursday (07/30/2020).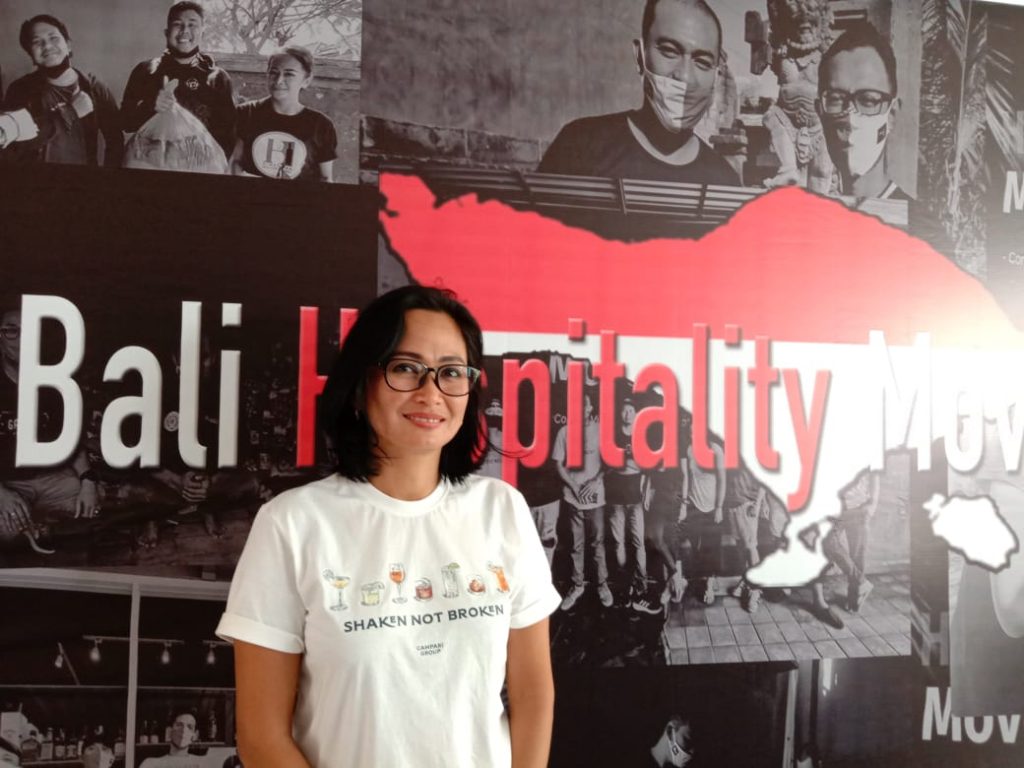 Present on the occasion were a number of bar workers, bartenders, mixologists, chefs and also Olivia Said, as Campari Group National Manager – Indonesia. Olivia, who has been serving in Campari Group for a dozen years, admitted that she was happy and happy that Campari Group could be here and work with BHM to help others in need.
"It so happens that our partners are bartenders, and because Campari is a beverage company, we prioritize those who work in the bar and are affected co-19," Olivia Said said when met on the sidelines of the activity.
Furthermore, Olivia explained, the charity held by Campari for the first time was packaged by cooperating with 5 professional Balinese mixologists such as Panji (Aperitif Bar), Aldo Gunawan (40 thieves), Jendra (Barbacoa), Agung Ari (Merah Putih) and Ari Barker (Bikini Bar) with the concept of selling drinks for 100 thousand / bottle. "From July 1 to July 9, 2020 sold 100 bottles with a total of 20 million collected money. We donated 100 percent of the sales proceeds in the form of food, "he said.
As is known Campari is an alcoholic drink and is categorized as a bitter drink or bitters made by soaking a mixture of secret spices in alcohol. This drink originated in Italy and was first made by Gaspare Campari in 1860. At that time, Gaspare Campari was only 14 years old but had become a drink maker at Bass Bar in Turin. Gaspare makes this drink from a minimum of 60 types of spices, tree bark and fruit skin and named it Bitter all'so d 'Holland. Gaspare then allowed bar owners in northern Italy and southern France to sell their concoction drinks but they had to put up the "Campari Bitter Drink" sign. Campari is a kind of aperitive that is often taken with soda, orange juice or as a mixture in drinks.
Campari is slowly but surely starting to dominate 'premium' bars or restaurants in Indonesia. Olivia ensures that every restaurant or bar provides campari products. Product Campari can now be found in various cities in Indonesia with the largest supply of course being in Bali, Jakarta and Surabaya.
The matter of caring for the community, Campari will continue to move and care. The next stage, according to the woman from Ambon, explained that it was not impossible that they would distribute food to other parties. "There are plans to do more activities in mid-August and September," Olivia said.
Meanwhile Jack, a representative from BHM added that this activity was enough to help relieve those affected by covid-19. He was also worried, even though it was said to be new normal, but several outlets had given signs that they would close down if this condition continued. "Many outlets will be closed even though it has been said to be new normal because foreign tourist arrivals are still not available while their operations are quite high," explained Jack.
Jack also hopes that all this will soon pass and Bali tourism can rise again. "Covid paralyzes all aspects so I and we hope that it will pass soon," he concluded. *
Editor – Igo Kleden