BALI  – Guinness is back to enliven Bali with Guinness Smooth, an innovation and new flavor expression created by Guinness Master Brewers. This product is not only worth trying, but must be enjoyed wherever you are and wherever you go.
Together with the talented young chef Renatta Moeloek and collaboration with bartenders from the Indonesian Bartender Association (HBI) Bali as well as chefs and food experts, Guinness is present for 2 days (19-20 May 2021) to enliven Bali which has been longing for the atmosphere of tourists who are full of enjoyment and cheerful.
The conditions on Batu Beliq Beach which are safe at sunset make the atmosphere even more beautiful when the guests present look enthusiastic about enjoying Guinness Smooth at the Smooth Flavor Journey for the first time.
This program is a series of events held for 2 days and is a commitment of Guinness Smooth to collaborate with activists in the culinary industry, especially bartenders, food experts, and outlets.
The first day (Wednesday, 19/5) Guinness Smooth invites 2 professional bartenders and 2 professional chefs in Bali to collaborate and innovate together to create new ways and experiences in serving Guinness Smooth. This program was directly guided by the Guinness Chef Representative Renatta Moeloek who shared his knowledge and experience in serving Guinness Smooth, combining it with food, and producing new and unique experiences for participants to be served to consumers later.
The collaboration for innovation, which is the spirit of the Smooth Flavor Journey, is inspired by Guinness Smooth, an innovation and new flavor expression created by Guinness Master Brewers.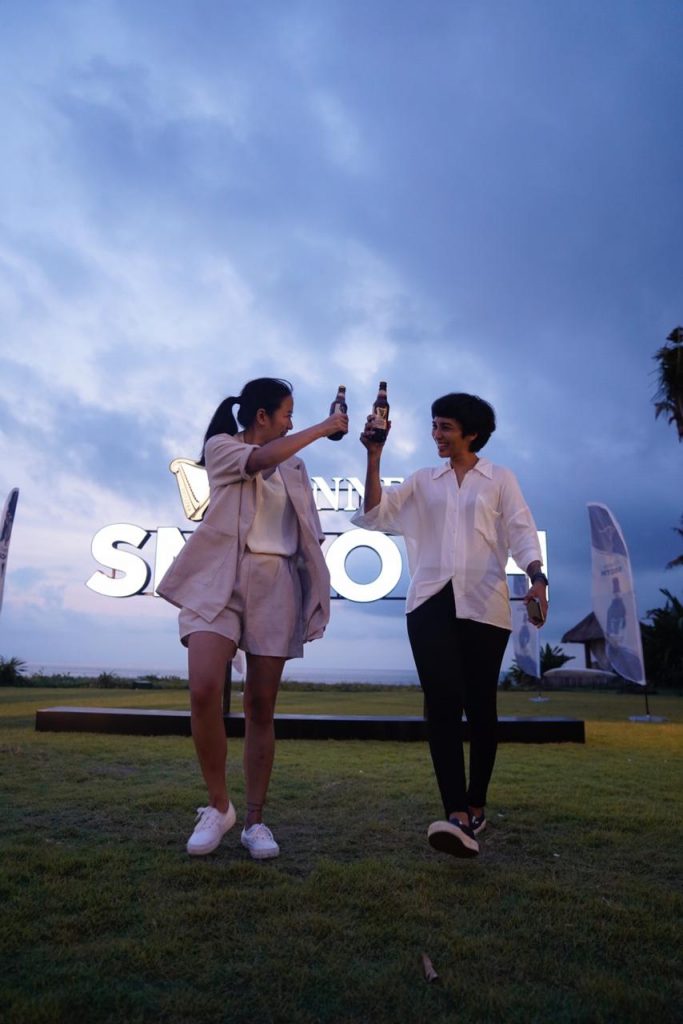 Guinness Smooth comes with a balanced taste character, blending the classic Guinness flavor with a unique new softness. This taste character provides a new taste experience to answer the challenges of consumers who are bored with existing choices, want something out of the ordinary, and are looking for new drinks to complete their day.
Marketing Manager of Guinness Indonesia Bayu Hanandhika when confirmed explained, "The unique flavor character of Guinness Smooth presents so many options to serve it or blend it perfectly – this opens new experiences for consumers and opens up opportunities for creators to innovate.
"Guinness believes that innovation starts with those who meet directly with consumers. Therefore, we feel it is important to collaborate with culinary or F&B business activists, "said Bayu.
The professional bartenders who were present were also invited to be creative together in serving Guinness Smooth. Bartenders are also invited to get to know the perfect taste of Guinness Smooth, and exploratively introduce Guinness Smooth through a creative cocktail.
In addition, professional chefs are also invited to explore Guinness Smooth through food.
Meanwhile, Guinness Chef Representative Renatta Moeloek, came down directly to guide this collaboration. Renatta, who has been a longtime collaborator with Guinness, provides insight into how Guinness Smooth has always been a classic food companion.
Renatta said that almost all the food we like, from western to Asian style to even Indonesian, is suitable to be enjoyed with Guinness.
"Whole foods, whether grilled or roasted, rich in meat, salty or spicy, to sweet like desserts and fruits go well with Guinness Smooth. Of course for food experts this is an opportunity to continue to be creative and innovate to create a unique taste experience to serve, "said Renatta.
Through the Smooth Flavor Journey, Guinness Smooth will present to consumers in a unique way.
"This is what we call Guinness Smooth Time, a space, and a moment for consumers to take a break from their busy lives, having a beautiful and pleasant moment with their closest ones," concluded Bayu.
The two-day Guinness Smooth event requires strict health protocols for all guests. Invitations must go through a rapid swab antigen test with non-reactive results in order to enter the venue. Invitations are also required to wear masks, wash hands, and maintain distance throughout the event. ***
By Nancy