BALI – With Covid-19 safety measures and protocols in place, combined with the highest level of hospitality, HOSHINOYA Bali hopes to bring back a sense of well-care and comfort with its reopening in July 2021. HOSHINOYA Bali continues to craft luxury travel experiences, now in consideration of new normal standards, and is committed to welcoming back guests to their home away from home, in Ubud, Bali.
HOSHINOYA Bali continuously observes and incorporates government health regulations and guidelines into operations without compromising, but rather strengthen the overall atmosphere of relaxation and tranquility. As a resort with personalized service, HOSHINOYA Bali will create and recreate unique holiday experiences.
To mark its reopening, HOSHINOYA Bali highlights offerings to rejuvenate the stressed body and mind post isolation, away from digital devises and reconnecting with nature. 
Recent research by Universitas Indonesia and Universitas Katolik Atma Jaya Jakarta in 2020 show that 14.4% of Indonesian adults have internet addiction due to the long "stay at home", a 52% increase from before the pandemic. Another research is Zoom fatigue phenomenon, due to the increase of Zoom users world-wide for office meetings from 10 million in December 2019 to more than 200 million in March 2020.
HOSHINOYA Bali is the perfect place of accommodation for those who have been overloaded with information or have overworked and want to disconnect from their busy lives and find peace in nature.
A break from digital devices at the property can be achieved by the absence of TV and clocks in the villa. Those who are looking for a solitary retreat can choose to turn their mobile phones and digital devices off to detach themselves from physical and emotional desires and hence, discover their inner strength.
"I am very delighted to reopen HOSHINOYA Bali after one year of suspension," says Mr. Takaaki Yasuda, General Manager of HOSHINOYA Bali, "We are ready to welcome costumers again with safety measures." Further he comments, "HOSHINOYA Bali is surrounded by vast nature, and Pakerisan River, which appears in Balinese mythology, flows through the valley. It exists as a place to stay quiet and look back at yourself, away from the hustle and bustle of the city. Guests are able to enjoy quiet time and restore their energy."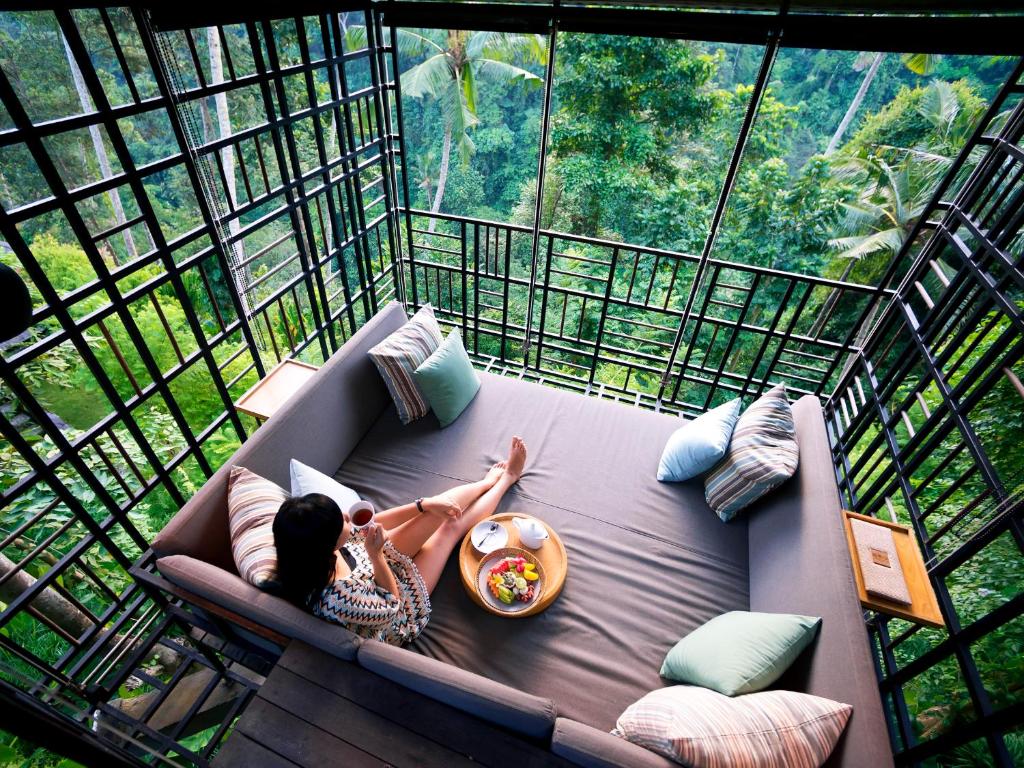 Guests can visit Hindu temples and shrines, stroll along terraced rice paddies, stay in the forest surround, cycle or hike, practice meditation, enjoy healthy food, and wander through the colorful streets of Ubud to reconnect with nature and experience the true essence of Bali. After exploring, retreat to your home away from home. HOSHINOYA Bali provides a relaxing experience, allowing guests to feel in true harmony immersed in Bali's nature, people and God.
HOSHINOYA Bali, the first HOSHINOYA property outside of Japan, has serene rice fields, verdant valleys, sacred Pakerisan River and the dynamic 1,000-year-old water temple network running through the property. Tucked in the Ubud jungle, the villas form a compound of separate pavilions inspired by traditional Balinese residence.
Featuring design elements of plants, flowers, natural construction materials, and large open spaces, each villa has a terrace that leads to a semi-private pool with sparkling emerald water. Balinese traditional "Alang alang" and "Ulin" rooftops of the villas are alongside thatch-topped gazebos.
There are secluded spots to read a book or enjoy the pervading views in peace. All guest villas have private access to one of three beautiful, palatial pools. Spa, nestled in the valley surrounded by deep green foliage offers sumptuous massage and body rituals using body scrubs and oils with rice, herbs, or spices.
Flavorful meals are served at the restaurant, where guests can savor it with a view of the jungle in front of them. The décor, furniture, wall carvings, and dishes, all exhibit the sensibilities of top local artisans and contributes to the inviting restaurant space. In particular Café Gazebos, couch-lined individual cages that extend into the valley, makes one feel as if they are hanging from the treetops.
Harmony between Japanese simplicity and Balinese edge contributes to the elegance and tranquility of this hillside retreat, just 30 minutes away from downtown Ubud. Enjoy a refined experience of wellness and accommodation here, at HOSHINOYA Bali.
Limited offer for Bali residents only, up to 55% discount from regular price, valid for staying period July 1 to August 31, 2021. Click here to book a villa including breakfast and dinner or room only. Early Bird and Stay Longer offers are also available for an extended journey of wellbeing. For more information, please visit https://hoshinoya.com/bali/en/.
By Nansy