Paradiso Media is a print and online tourism media that aims to promote Indonesian tourism and other strategic issues that intend to make Indonesia more competitive with other countries in the digital age. This media was founded in 2006 in Bali published by PT. Travindo Jaya, and until now continues to be committed to promoting Indonesian tourism to domestic and foreign tourists.
Besides this media is intended to provide as accurate information as possible for tourists, tourism practitioners and tourism observers, it is also an appropriate reference for anyone who wants to know the Indonesian government's tourism policies as well as for travelers who travel to Indonesia.
Paradiso Media strives to continue to echo Indonesian tourism and is committed to being a trusted reference for domestic and foreign tourists.
Display
Paradiso Media comes with 3 superior products. First – www.paradiso.co.id in the Indonesian version. Second – www.ultimoparadiso.com in the English version. Third – the printed version of Paradiso, which is published every 3 months.
Coverage
The news displayed in Paradiso Media is material that is extracted directly from news sources, releases from the government or other stakeholders that will always be re-checked for the truth of the information. Both side cover will always be the attention of the editorial team that is already very professional in the field of journalism.
If you want your product or news to be published in Paradiso media, the conditions are easy: First, send a coverage invitation to the editorial email: info@ultimoparadiso.com or wa to 081338306900 or you just need to send a release with photos.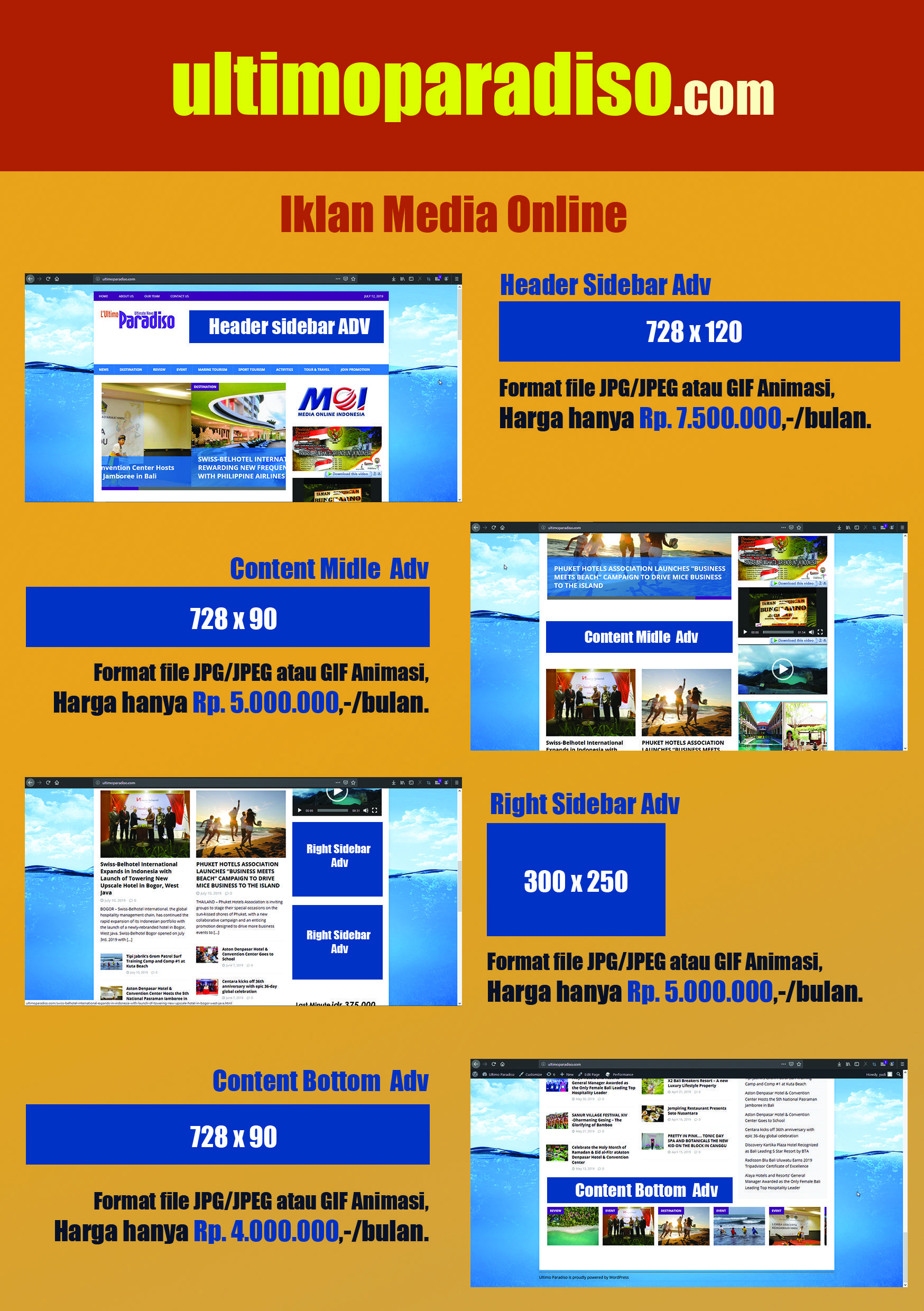 Cost
If you want news, products or activities to be displayed on Paradiso Media, you can make choices like this:
Advertorial (Adv) means the release is received by the editor at a cost of Rp. 300,000 once aired on ultimoparadiso.com
Advertorial with special coverage from the Paradiso Media Team will be charged Rp. 500,000 shows on ultimoparadiso.com
Ads with a rate card like this carry:
Paradiso Print Rate of Advertisement Full Page Front Cover – 27.5cm (h) x 21cm (w) : Rp. 12,000,000
Full Page Inside Front Cover : Rp. 10,000,000
Full Page Back Cover : Rp. 10,000,000
Full Page Inside : Rp. 8,000,000
Press Release, review, etc is charged: Rp. 1,500,000
Term and Conditions
Prices are valid in 2022
Prices are excluded 10% tax
Artwork / design and advertorial prepared by the client
Payment is made after receiving the invoice
If advertising in Magazine and Online will get a 30 percent discount
Publisher
PT. RUMAH MEDIA NUSANTARA
Telp/wa  081338306900
Email:
info@ultimoparadiso.com
ultimo.paradiso@gmail.com
www.ultimoparadiso.com
Transaction
BRI Account Number: 22010 100 2668 503 on behalf of: IGNASIUS IGO KLEDEN