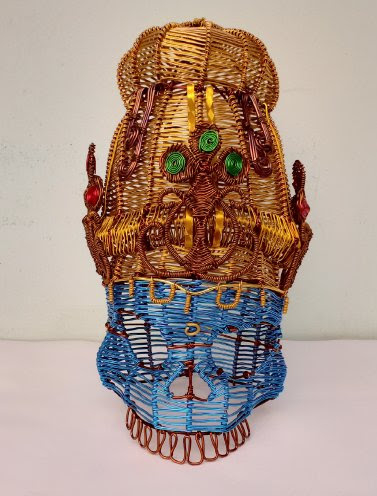 Activity: Exhibition of metal sculptors themed Guarding the Body and the Fiery Passion of the Soul
Artist: Agus Kama Loedin.
Schedule: 10 January – 28 February 2020
Open for the public from 10.00 – 18.00 WITA
DENPASAR –   Agus Kama Loedin present metal sculptors exhibition themed "Guarding the Body and the Fiery Passion of the Soul" at Santrian Art Gallery, Griya Santrian Resort & Spa, Jl. Danau Tamblingan 47, Sanur.
Agus Kama Loedin's latest art works are subtle pieces that are no longer mischievous. Not so much of a bold display of the skills in creating forms, but more of an attempt to deliver a message. Agus has entered the stage of Ngunduri Sepuh and has started to direct his thoughts inwardly—visible from the messages he conveyed and also from his art works. These art works are dedicated for the friends, relatives and family members who had passed away. These are prayers in the forms of bended, twisted and sinuous wires.
The title is the essence of his thought processes, which is formulated as a mantra: JAGA RAGA BARA JIWA, meaning the act of guarding the physical body and the passionate flame of the soul. Before the existence of the verses in holy books and the prayers, mantra is the language between the earth and the sky. Mantra is a part of the beliefs of the older generation who have welcomed new ideas with an open heart, signifying that their understanding is actually greater and nobler because they are willing to give room for new ideas to develop. This mantra has accompanied Agus when he was working on the wires; while the mantra is uttered, the passionate flame of his soul is kept alive.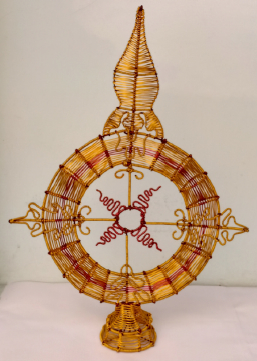 Loss will bring change. Everyone will die in the end, the day and age will change when it is time for it to change, joy will fade and our strength will also be eaten away. Change, transition and development will consume our time, place and energy; therefore, JAGA RAGA BARA JIWA must be done continuously so that we can survive and not be dissolved and gone without a trace. Loss shouldn't have been a taboo subject because by experiencing loss we can learn to stay alert and to be aware and be grateful for all the things we still have. Mantra will strengthen us; therefore say it and make it come true. (*)