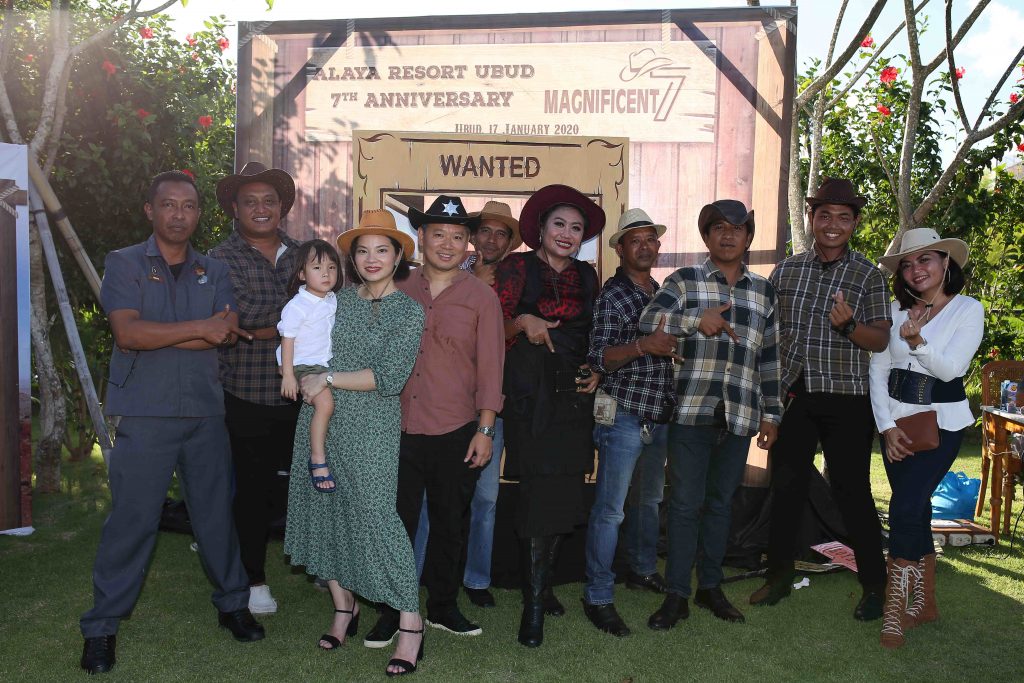 UBUD – Alaya Resort Ubud proudly celebrated its 7th anniversary on 17th January 2020 at Manisan Restaurant with an appreciation event for its management team, all staff members and supporting partners. It essentially paid tribute to 7 years of dedicated service and heartfelt hospitality. The theme for this year's gathering was 'Magnificent 7' featuring a Wild Wild West décor, photo booth and cowboy costumes.
In the month leading up to the 'Magnificent 7' anniversary, the organising committee conducted a number of activities in line with Alaya's corporate social responsibility program and its adherence to Tri Hita Karana. Staff members eagerly participated in a clean-up campaign, a blood drive with the local branch of the Red Cross, Darma Wacana, Jegeg Bagus Competition, Creative Video Competition, and Alaya's Got Talent. Another inititiative included the announcement of our Employee, Supervisor and Manager of the Year award winners. There was also a staff outing to Basuka Marine Park in Tanjung Benoa that was held over two consecutive days so that everyone had a chance to enjoy some well-deserved fun.
The 'Magnificent 7' anniversary celebration represented a journey of hard work and determination. "Celebrating 7 years of amazing memories marks a key milestone in the history of our time as a star-rated boutique resort that has become an important entity within the island's evolving tourism sector," said Dewi Mas, CHA. CHT, General Manager of Alaya Resort Ubud.
During this momentous event, Mr. Jimmy Gunawan, CEO of Alaya Hotels & Resorts, also briefly addressed staff members and expressed his gratitude by saying, "We are so proud to have all of you as part of our work family. I hope that this milestone drives us all to stay focused and keep up the good work for many more years to come as Alaya Hotels & Resorts will be expanding with another 2 properties starting this year."
With 106 luxurious rooms and supporting facilities, Alaya Resort Ubud is a veritable home away from home offering a distinct sense of belonging for leisure travellers from around the globe. Strategically located in the heart of Ubud, the resort was built with rare sensitivity towards the surrounding environment. It was designed by Perth-based architects Grounds Kent, an award-winning firm responsible for numerous culturally unique resort projects worldwide. (*)