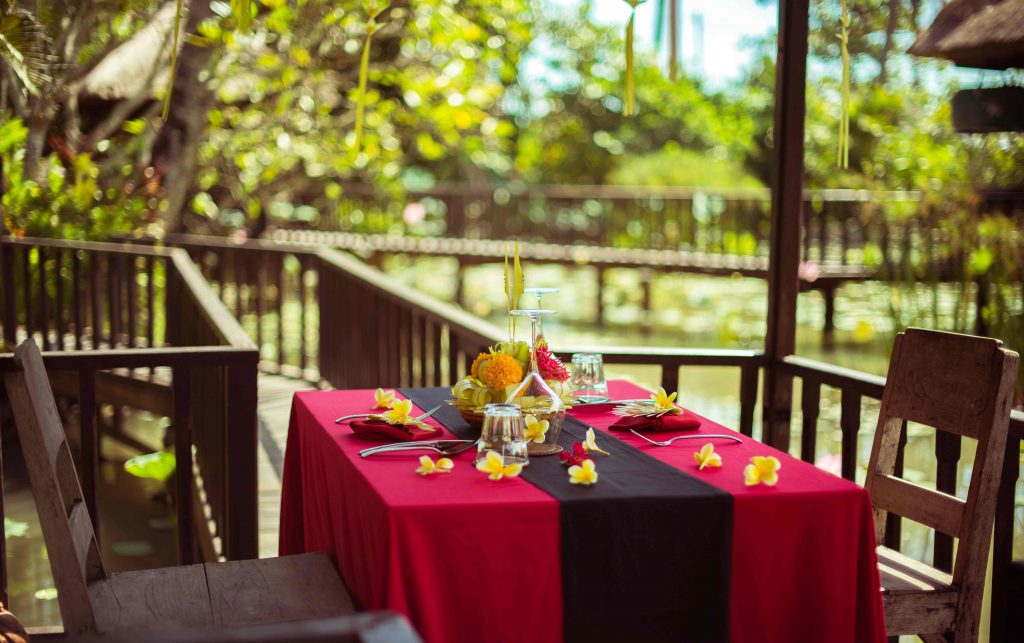 BALI – The arrival of February and Valentine's Day is the perfect excuse to celebrate love and spend time focusing on your loved one, savoring a romantic experience that will last forever in your memory.
Hotel Tugu Bali recounts the most romantic tales, folklores, and legends of Indonesia – one stay at a time. Celebrate love where timeless romance and exotic luxuries blend, right in the heart of Canggu. Hold tight to that someone special and escape to another beautiful day in the paradise
From the curated love nest filled with fine arts, candlelight tete-a-tete dinner at IWA Restaurants, dozing off in your sunken bath, sunbathing by our large pool, sunset rendesvouz at Ji Terrace by the SEA, or experiencing a most traditional-spa treatment for two; we've got you covered.
Just The Two Of Us
Romantic getaway in the island of the gods
Inclusions:
2 Nights Stay at Rejang or Dedari Suite
Daily Lavish Breakfast
Signature Traditional Afternoon Tea
Romantic Candle Lit Dinner for Two
1 Hour Massage for two
Private antique collection tour
Available throughout February, from IDR 4,400,000 net/ night, with a minimum of 2 nights stay
Valentine's Day Dinner: A Balinese Love Tale
This Valentine's Day, enjoy 5-course romantic candlelit dinner with a complimentary aphrodisiac cocktail for two, priced at IDR 480,000++/person. It's inspired by the eternal passionate love story of the famous Belgian painter Le Mayeur and the love of his life, the beautiful legong dancer Ni Pollok in the early 20th century.
MENU
Amuse Bouche : Shrimps & Juliennes of Ginger Crisp Pockets, Torch ginger flower
Appetizer : Gohu Spices Island Mango Tuna and Avocado Ceviche
Tuna mango and avocado with exotic marinating herbs
Soup
Caramelized Baked Tomato with Star Fruit Gazpacho
Tomato, goat cheese, star-fruit, onions, garlic
Main
Balinese Seared Scallop
Scallop, lemongrass, ginger, lime, coriander
OR
Slow cooked Lamb Rack with Exotic Balinese Spices
Lamb, beetroot, rosemary, thyme
Dessert
Chocolate Lava Explosion with Pineapple Sorbet
Chocolate cake with melting chocolate center, Pineapple sorbet and mocha sauce
About Tugu Hotels, Exotic Spas, & Restaurants
Tugu Hotels are privately owned and designed collection of luxury art hotels born out of one man's love and passion for Indonesia's romantic history. Tugu Hotels' founder, arguably Indonesia's biggest collector of fine Indonesian art and cultural antiquities, designed these beautiful museum hotels to house his antiques and to tell the world the romantic stories and legends of ancient kingdoms of Indonesia.
Tugu Hotels, Exotic Spas, & Restaurants in Bali, Lombok, Jakarta and East Java, all stands as ethereal monuments of forgotten art, culture and romance of the thousand-years-old Indonesian archipelago. This fully Indonesian experience is achieved not only through a most unique design amidst majestic landscapes, historic towns and refurbished historic buildings, but also from various cultural experiences that guests can only have in the hotels. Tugu- the art, soul and romance of Indonesia..  (*)