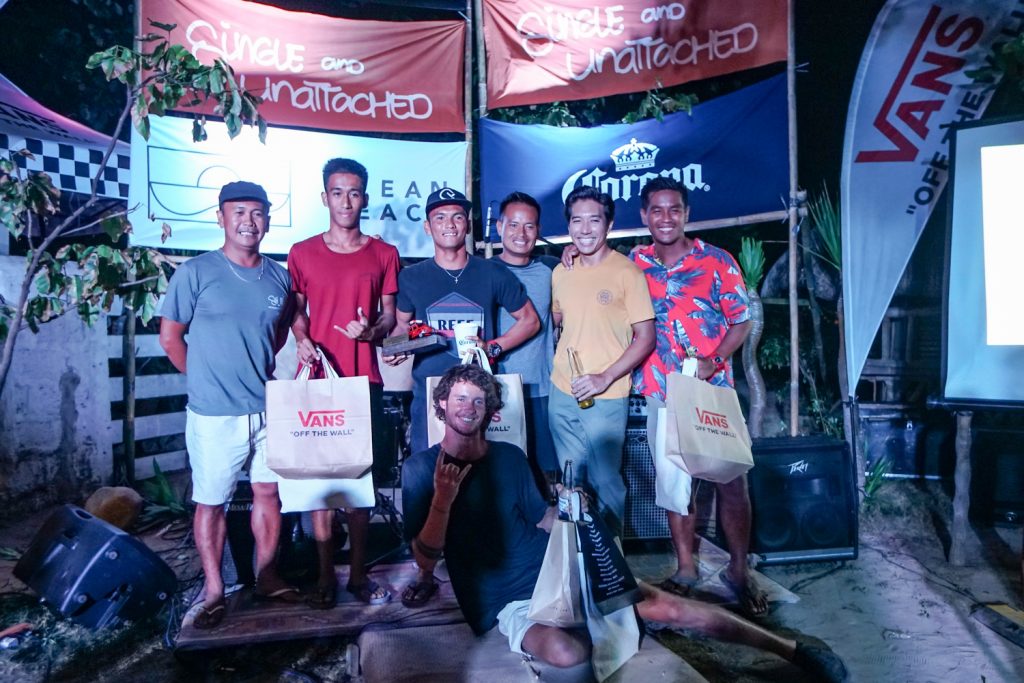 8th annual Single and Unattached 2020 Classic Single Fin Surf Contest and Beach Fest Wraps Up with La Union's Jay-R Esquivel and Siargao's Aping Agudo Winning Top Honors
San Juan, La Union – Philippines –  The 8th annual Single and Unattached 2020 Classic Single Fin Surf Contest and Beach Fest wrapped up last night in festive fashion at Clean Beach with the awards presentation, live music by the Flippin Soul Stompers, DJ sets by Gian Romano and The Other Daddy plus an endless flow of Corona beer and Stoli vodka; the perfect finale to three days of vibey and chilled yet exciting and nail-biting surf competition that saw La Union's Jay-R Esquivel take first place in both the Men's Longboard Invitational and the Single Fin Shortboard Divisions, Siargao's Aping Agudo winning the Women's Longboard Invitational, La Union's Jomarie Ebueza taking out the Under 18 and Single Division, and Ilocos Norte's Mike Oida winning the 40 and Over Longboard Division.
First place winners received a beautiful hand-made Single and Unattached trophy, and all finalists got goody bags from sponsors Van's, Corona, New Era, Maui and Sons and others.
Men's and Women's winners Jay-R Esquivel and Aping Agudo also received PHP 50,000 cash (approximately $1,000 USD), plus invitations to the yearly Mexilog Fest to be held in Punto Burros, Mexico from May 9-16th, and to the Single Fin Mingle event in New Zealand that is coming up from March 19-22.
Roger Casugay also received an invitation to the Single Fin Mingle as his prize for earning the Special Local Sportsperson Award. Casugay recently won a gold medal in the Men's Longboard Division of the 2019 South East Asian Games held in La Union last December, and received international attention for assisting a fellow competitor who had lost his board due to a snapped legrope during their heat.
Different from previous year's, the 2020 Single and Unattached event enjoyed an extended 6 day waiting period that ensured sufficient time for the competition to be held in the best waves possible. After being on hold for the first 3 days, the following 3 days saw mostly excellent waves for the international field with glassy 2-3 foot perfection the norm and only one afternoon of challenging 3-4 foot wind affected conditions.
The Men's Longboard Invitational Division had a full heat draw of 48, including 2020 Sea Games Longboard Champ Roger Casugay and runner up Jay-R Esquivel from here in La Union, Pippen Suzuki and Shohei Akimoto Japan, and Sean Nettleton, Evan Ledger, Jaya Guy and Mark Matisons representing Australia.
24 women loggers joined in the Women's Longboard Invitational Division, which boasted several of the surfing world's most popular lady loggers in Josie Prendergast and Amy Rose Hewton from Australia, Alicia Kelley and Nique Miller from Hawaii, and who joined La Union's SEA Games medalist Daisy Valdez, Siargao Island's Aping and Ikit Agudo, Korea's Sunshine Su Hyun Shin and Hye Hyun Song, and Japan's Chiaka Ikeda.
The previously named Tiny Toes Division was re-named Under 18 and Single this year, with 17 junior surfers signing up, 21 surfers joined the Single Fin Shortboard Division (most were also competing in other divisions), and the newest addition to the contest lineup was the 40 and Over Longboard Invitational with 7 surfers including event co-creator Buji Libarnes, having his first surf in a couple of months after the recent birth of his baby boy Pancho.
"It was so good to get into the water again after not being able to surf for a couple of months," said Buji. "I'm so thankful to have a new baby and I can't wait to get him into the water with me. I'm also very thankful for a great team and the help of our loyal sponsors, without them the 8th annual Single and Unattached would not have been possible. Because of the baby's due date, we briefly considered cancelling the event but nobody wanted that to happen, so thanks to Arturo "A" Dedace, Kage Gozun, Allen Aligam, Michael Eijansantos and many others, we pulled it off! Big thanks to all our sponsors and to all the competitors for coming, and to the PSCT technical crew and La Union Surf Club for a great job running the competition. See you again next year for the 9th annual Single and Unattached!
Men's Longboard and Single Fin Shortboard winner let his surfing do most of the talking, but when asked about his feelings on the event and winning not just one but two divisions he replied, "It's really great to have this event here in my home town every year and I'm so happy that I could twice today. Surfing in the finals with my friends was such a good time, and surfing with all the other guys is always fun too. Thanks to everybody for coming and we'll see you all next year!"
Women's Longboard Invitational winner Aping Agudo hails from Siargao Island, which is best known in the surfing world as the home of Cloud 9. But she and her younger sister along with fellow competitor Maricel Parajes and others have changed the perception that Siargao is only for short board surfing, as she and her sister abley demonstrated in the finals yesterday. From the podium after accepting her awards, she said, "Thanks to Buji and Nikki for creating this event and to all the crew that organized it this year, to Mike Oida – you guys did a really great job judging, to all the competitors it was great seeing you all again, and to the locals, thanks for sharing your waves with us, and I'm looking forward to seeing you all again here next year!"
Check the singleandunattached_ Instagram site for photos, videos, and updates, and if you need photos or other information about the event, you can email singleandunattached@gmail.com
Contest Results:
Men's Longboard Invitational
1. Jay-R Esquivel
2. Rico Dumaguin
3. Roger Casugay
4. Marven Abat
Women's Longboard Invitational
1. Aping Agudo
2. Daisy Valdez
3. Nique Miller
4. Ikit Agudo
Under 18 and Single Division
1. Jomarie Ebueza
2. Justin Ebueza
3. Carl Vincent
4. John Andrew Esquivel
Single Fin Shortboard Division
1. Jay-R Esquivel
2. Jomarie Esquivel
3. Jaya Guy
4. Marven Abat
40 and Over Longboard Invitational Division
1. Mike Oida
2. Jojo Lim
3. Lemon Dinas
4. Buji Libarnes