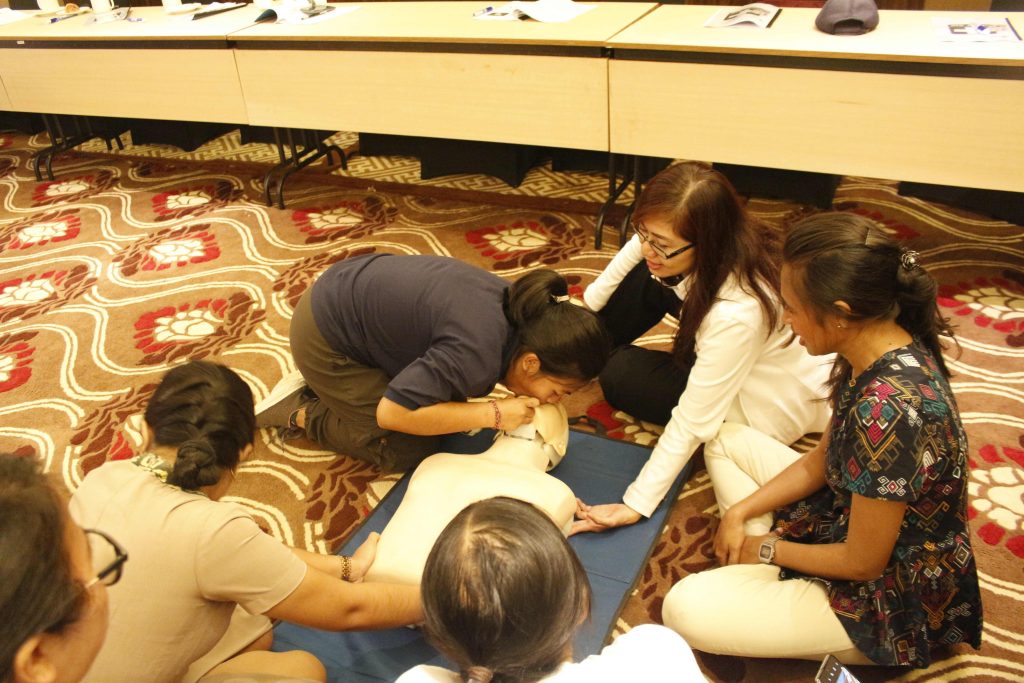 BATURITI – Saranam Resort & Spa held First Aid Training collaboration with BIMC Hospital as a trainer partner on Friday, 7 February 2020.
As we know BIMC Hospital with International standard stands at the forefront of quick and responsive medical assistance that it therefore provides First Aid and CPR training across Bali, provides a multitude of comprehensive services performed by specially trained medical team.
This training held in Saranam Resort & Spa and given by BIMC ER doctor with material includes: basic life support, DRCAB (Danger, Response, Circulation, Airway, Breathing), resuscitation and action plan, Expired Air Resuscitation (EAR) and Cardio Pulmonary Resuscitation (CPR), how to manage obstructed airway, broken bones, choking, bleeding, contusion, snake bites, near drowning, shock and other medical situations, recovery position, how to manage proper emergency calls and hand on skill station.
The main aims of first aid are preserve life, prevent the escalation of the illness or injury, promote recovery, pain relief and protect the unconscious. There will be 20 selected staff as a participant will join this training. The goal is to train the staff always be ready for an emergency to ensure a safety for guest
"We never plan to have accidents or incidents; however, we know that accidents can and will happen and often cause injuries – minor and major – and accidents may be life-threatening. In an accident, every second counts. First aid training is designed to provide the practical knowledge and skills to provide immediate help and care at anytime in the hotel area especially", said General Manager Saranam Resort & Spa, Mr. Kahar Salamun.
Saranam Resort & Spa is proud that has been selected to co-develop this program. This interactive learning solutions will enable to deliver this life-saving information to guest and provide excellent services.
About SARANAM
Saranam Resort & Spa is a stunning mountain resort, located in Baturiti, Bedugul, Central Bali, 48 kilometers north of Ngurah Rai International Airport.
With 79 spacious rooms and 10 private luxury villas offers a unique venue to host guest at one of the many intriguing places in Bedugul. There are several sites of great archaeological interest and significance. This region is remarkably cooler than elsewhere on the island due to its higher elevation compared to Southern Bali. Major sites in Bedugul are the Ulun Danu Beratan, Water Temple, the Eka Botanical Garden, Git-git waterfall, Tamblingan lake and Wanagiri photo spot.
Following are a selection of the ultimate optional event experiences for your dynamic corporate meetings or small team building events with every step associated with the planning and execution of your successful and unforgettable occasion. (*)