KUTA – Protocol Team for the Life of the New Era of Tourism, chaired by Ni Luh Putu Yati Artini, CHA has verified ZIA HOTEL, a 3-plus hotel located on Jl. Ciung Wanara no.17, Kuta, which is the premium area of ​​Bali's heart of tourism on Wednesday (7/22/2020).
The team consisting of Ni Luh Putu Yati Artini, CHA, I Putu Hendra Mahesa, I Gusti A Ngurah Darma Suyasa, CHA, Dewa Putu Makapagal, SE, MM, CHA, CHE and Gede Gunadika from the Badung Tourism Office agreed to recommend that ZIA HOTEL has fulfilled the requirements and completeness to obtain the New Era Life Order Protocol protocol.
Minutes that ZIA HOTEL has fulfilled the requirements to get the certificate were received directly by the General Manager of ZIA Hotel, Bonaventura Christiani. According to Yati, of the 20 items that were set to be verified by ZIA HOTEL, it was completed and this was very good towards the New Era of Life Order. This verification is intended so that the hotel is more confident in marketing its products and also provides security and comfort for guests when staying at the hotel.
"This verification team is a team to ensure that the hotel is ready to enter a new normality era by establishing a health protocol instead of the hotel audit team," Yati said when confirmed after conducting the verification.
While the General Manager of ZIA HOTEL, Bonaventura Christiani who manages hotels with 115 rooms and has been a favorite hotel for tourists in the Kuta area welcomed the presence of the verification team that has been assigned by the government. "The step taken by the government is very good because we are dealing with this certification, tourists increasingly trust and re-determine their choice to travel to Bali again. For hotels to maintain trust is very important, because of that we have anticipated it by doing various things, following the government's recommendations to implement strict health protocols in the hotel environment because we are very confident when we break down it will be difficult to rebuild tourist confidence, "said Bona Christian.
ZIA HOTEL Bali has been one of the favorite tourist hotels while on holiday in Bali. Apart from its strategic location in the heart of Kuta tourism, the hotel also offers a variety of attractive facilities. There is a receptionist and lobby lounge, there is a restaurant bar, there is an internet corner, there are YOUO Asian Bistro, swimming pool, fitness room, meeting room and also no less interesting on the rooftop there are Roof Top Sundeck and Roof Top Bar.
While looking at social media pages, ZIA HOTEL KUTA is also recommended by various groups. Usman, a traveloka service user writes …. very satisfied to stay at Zia Hotel, Kuta, Bali. Very good service. The location is very strategic, close to shopping centers, beaches, just really ok, 'he wrote.
The same was also written by Pipit M. … ZIA HOTEL, Clean, comfortable, friendly, close to Kuta Beach and Kuta Square shopping, great.
While a comfortable room uploaded by Rosalia E.N. …… The rooms are comfortable, the location is really strategic, the service is friendly. And thank you because the hotel manager has separated the group guests (incidentally elementary school children) are on separate floors with individual guests, so that the atmosphere in the hotel can still be felt calm and comfortable.
Come on …. towards a new era of normalcy, it's time to travel with attention to health protocols. ZIA HOTEL KUTA has been verified as a safe and comfortable place to stay for you.
Reservations and reservations, please contact:
ZIA HOTEL – Jl. Ciung Wanara 17, Br. Tegal, Kuta, Bali 80361 Tel. (0361) 758811 Email: sm@ziakutahotel.com www.ziakutahotel.com (*)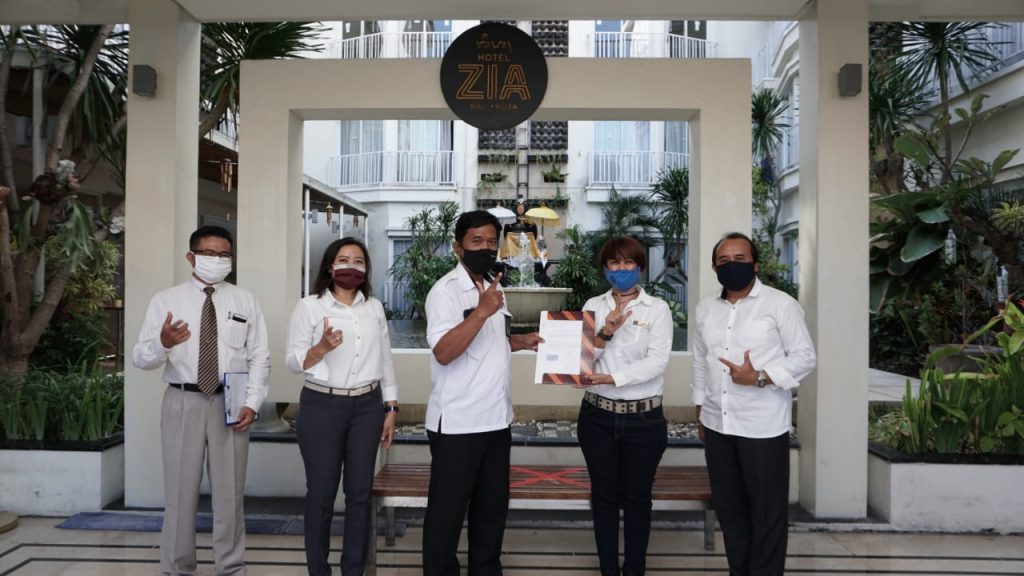 Editor – Igo Kleden