BALI – Who doesn't know Ubud? One of the areas in Bali that is famous for its natural beauty, namely rice fields. Not only tourists from outside Bali, local residents also often make Ubud a destination for refreshing or resting from the hustle and bustle of the city.
Now refreshing with the Ubud atmosphere is no longer a problem, especially for those of you who still want to be in the city center. The Aveda Boutique Hotel offers an experience of staying in Seminyak with a taste of Ubud, namely a staycation while enjoying the view and the coolness of the rice fields but in a strategic location so it is close to everywhere.
Even though it is located in the trendy city center, namely Petitenget Seminyak, this 4-star hotel can provide a calm atmosphere so that guests can stay relaxed. From the balcony of the Deluxe Paddy View room, guests can enjoy direct views of the rice fields. This favorite room at The Aveda Boutique Hotel is often used as a place to watch the sunrise while enjoying coffee and tea, a place to work from Bali, or just relax in the afternoon.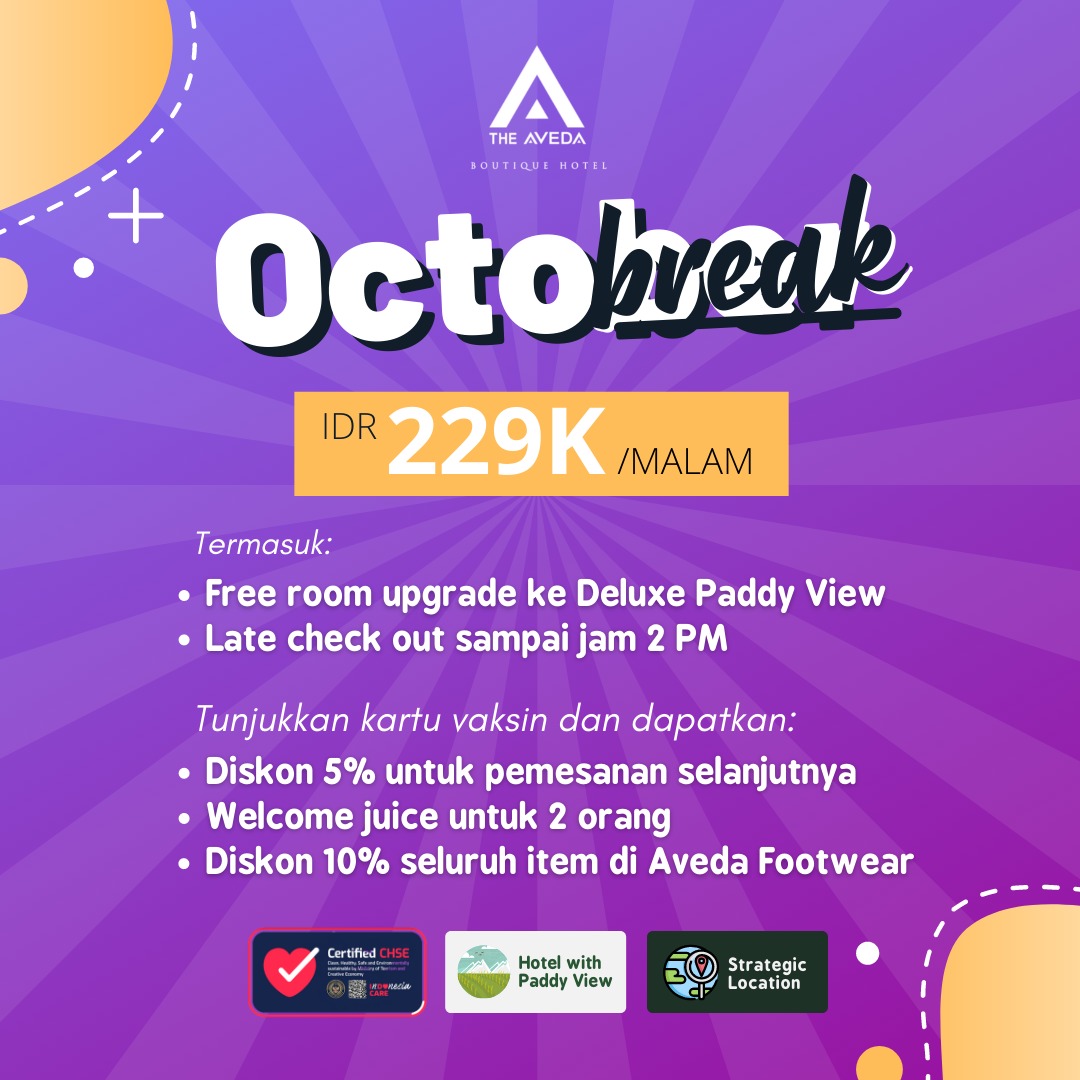 With a calming atmosphere on offer, this hotel in Petitenget also has a very strategic location. Located in the heart of Seminyak's life, The Aveda Boutique Hotel is close to hot spots, such as Monsieur Spoon, Livingstone, Nook and Petitenget Beach.
The Aveda Boutique Hotel is also equipped with complete facilities, namely Asian Street Food Bar, Mr. Wong Restaurant, swimming pool, gym, meeting room, and many Instagramable photo spots. Being the most appropriate place for a staycation, this Seminyak hotel also pampers guests with attractive promos and benefits.
Especially this October, The Aveda Boutique Hotel offers its newest promo, Octobreak. With the concept of 'take a break', this hotel near Petitenget Beach invites tourists to relax or take a break from the hustle and bustle of life with a staycation while enjoying the expanse of rice fields.
As the best 4-star hotel in Seminyak, The Aveda Boutique Hotel has implemented the Covid-19 health protocol to receive and serve guests. The hotel has also received the CHSE (Cleanliness, Health, Safety & Environment Sustainability) certification held by the Ministry of Tourism and Sucofindo. This CHSE certified hotel always provides clean, comfortable and safe accommodation for tourists, especially those who are tired of staying at home for a long time.***(adv)